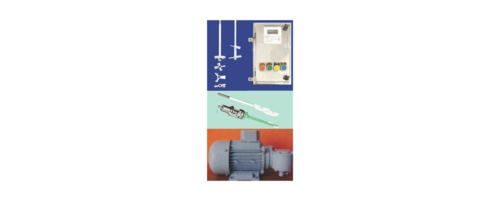 Stirrers & Motors
Product Description
Stirrer:
Stirrer Assemblies for use with Spherical/ Cylindrical Vessels generally comprises twomain components such as a Drive Unit (including Shaft Seal) and a Stirrer Shaft. In addition, a Reducer or Vessel Cover is normally required to connectthe Top Neck of the Vessel to the Drive Unit. Special Stirrers in Glass and MS-PTFE can be designed for specific application as per customer requirement.
Variable Speed Drive Units can be supplied with Electric Motors. Shaft Seals aredesigned to operate either under Vacuum or at Pressure upto the maximum recommended for the Vessel.
Chuck& Seal:
GlassReducer/ FEP Lined Reducing Flange is required to connect the Chuck & Sealto Top Neck of the Vessel. Bellow Seal is used for atmospheric pressure or uptothe pressure permitted into the Glass Vessel. Mechanical Seal is used for highvacuum application.
Chuck& Seal Assembly consists of Chuck, Bellow Seal or Mechanical Seal, GlassSeal Plate, Clamping Plate, Flexible Shaft, Stud, etc.
Motor:
Foot Mounted Flame ProofMotor with reduction Gear Box ratio 1:10 (130 RPM) is supplied as standard. Itmust, therefore, be mounted on the support structure. A motor is coupled withthe gearbox. The other end of the gearbox is coupled with Flexible Shaft. 1:7(190 RPM) Reduction Gearbox can also be supplied on request. This should bespecific at the time of inquiry.
Contact Us
Gala No. 6 In Unit No. 4, E.D. Estate, Dalvi Nagar, Survey No. 23, Sagpada Road, Village Chinchoti, Off Kaman Bhiwandi Highway, Behind Bhajanlal Dairy, Taluka Vasai (East), District Palghar,, Vasai, Maharashtra, 401208, India
Phone :+918045478208