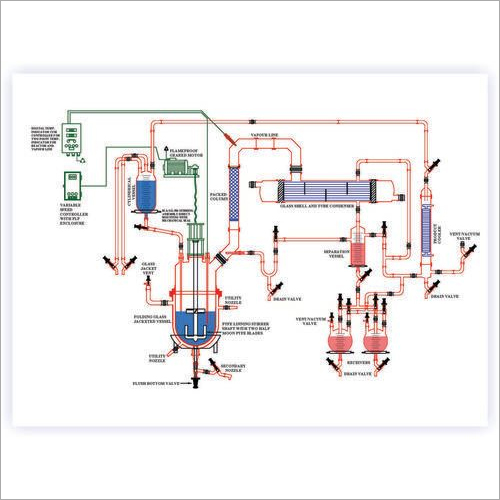 Multi-Purpose Kilo Lab Unit
Product Description
Garg Scientific offers customized distillation systems with Jacketed Glass Reactor for kilo labs. It includes vapor column, condensers, reflux provision, dean stark, phase separator, add on and receiver vessels, along with valves at suitable places, and supporting metal structure. The units are supplemented with TCU (Thermal Control Unit) for circulation in Jacket of reactor. We are offering triple wall glass reactors for kilo laboratories and pilot plants up to 50 liters of capacity.
Kilo Lab helps in the manufacturing of a small volume of Products from Active Pharmaceutical Ingredients and in the evaluation of the manufacturing and development process before commencing the commercialization plant.
Kilo labs help in discovering whether the potential product is scalable in the Kilo lab or not and save your business from expensive cost and research time rather than learning it about in the cGMP manufacturing process.
We understand that creating and running an emergent process in Kilo Lab only once does not guarantee that the same potential product will be created in the Pilot Plant during the cGMP manufacturing.
That why we develop and design Kilo Labs in such a manner that you can test the new process multiple times before shifting it to the pilot plant development stage.
Available with:
5 Liter-300 Liter (Single Wall Jacketed Full Glass Reactor)

5 Liter-150 Liter (Double Wall Jacketed Full Glass Reactor)

5 Liter-Liter (Triple Wall Jacketed Full Glass Reactor)

Cylindrical / Spherical Flask with Oil Heating/ Cooling Bath

Multipurpose Glass Distillation Overhead

Stainless Steel / MS Epoxy Coated / MS Painted Frame Supporting

Flame Proof / Non Flame Proof / cGMP / Non GMP Models available

Excellent Corrosion Resistant.

Temp. Controller. & Variable Speed Controller

Gas Purging, Solid Charging / Multi Liquid Addition.

Vacuum / Exhaust Piping

Additional Feeders / Receivers

Solid Feeding
Salient Features:



Full View Glass Reactor to Improve and Control Chemical Reaction.

Triple Wall Reactor for Cryogenic (-90ºC) Chemistry.

Internal Baffles for Improved Mixing.

Glass / PTFE Pressure Relief Valve and Rupture Disc for Safety.

Easily integrated with our Nutsche Filter and Scrubber Systems.

Modular and Compact Steel Frame available to minimize floor Footprint and Height of Pilot Plant.

Control and Sampling Valves at accessible locations.
Contact Us
Gala No. 6 In Unit No. 4, E.D. Estate, Dalvi Nagar, Survey No. 23, Sagpada Road, Village Chinchoti, Off Kaman Bhiwandi Highway, Behind Bhajanlal Dairy, Taluka Vasai (East), District Palghar,, Vasai, Maharashtra, 401208, India
Phone :+918045478208