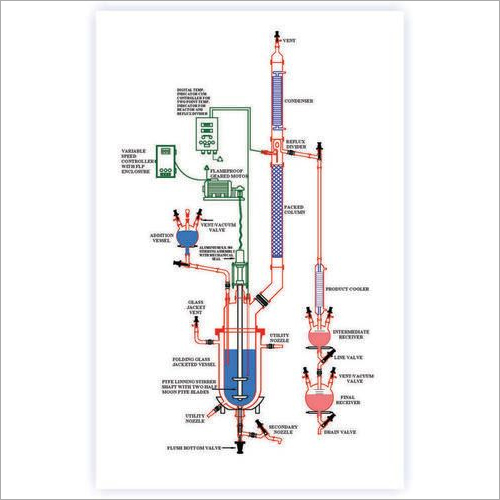 Jacketed Distillation Unit
Product Description
The unit has been designed by Garg Scientific to suit the customer requirement of combination of versatile Reaction/Distillation or combination for Pilot Plant Work. This has a flexibility of working at atmospheric pressure as well as under full vacuum.
The typical unit has a Jacketed Reaction Vessel having a facility for Heating and Cooling both by means of Heating/Cooling Fluids as a media.
The Standard system is equipped with Stirrer having Mechanical Seal, a Packed Column on the Side Neck of the Vessel, Reflux Divider, Coil Type Condenser and or Receiver System having a Product Cooler, Vent, Drain and Vacuum Valves, Option of speed variation by Mechanical Variator or Electronic Variator can be provided.
The receiver system is equipped with Product Cooler, Vent/ Vacuum Valve and Drain Valve. The above unit is available in 10 Liter, 20 Liter, 50 Liter and 100 Liter Capacity with Jacketed Cylindrical Reactor.
Salient Features:
Glass Reactor up to 500 Liter capacity.

ZERO Hold Up with Temperature Sensing Volume.

Glass Closer for addition of Solid.

Visual monitoring of the process, improving safety and reliability of production.

Dual functional Heating & Cooling Oil/Water Bath.

Can be designed for the batch as well as continuous operations.

All wetted parts are made from Borosilicate 3.3 Glass and PTFE, providing universal corrosion resistance.

Low CAPEX, and easy to maintain.

Suitable for Installation in Fume Hoods.

Zero hold-up in reflux.

Wide range of operation -50oC to +200oC available on request.
Optional Items:
Simple Drain Valve instead of Flush Bottom Valve with Secondary Valve.

PTFE Perforated Plates for Packed Column are available on special request.

SS PTFE Lined Stirrer instead of Glass Stirrer.

Variable Frequency Drives for Variable Speed.

Quick Release PTFE Manual Hole for addition instead of Glass Closure.

Digital Temperature Indicator cum Controller is available on special request.

Rupture Disk is also available on special request.
Contact Us
Gala No. 6 In Unit No. 4, E.D. Estate, Dalvi Nagar, Survey No. 23, Sagpada Road, Village Chinchoti, Off Kaman Bhiwandi Highway, Behind Bhajanlal Dairy, Taluka Vasai (East), District Palghar,, Vasai, Maharashtra, 401208, India
Phone :+918045478208