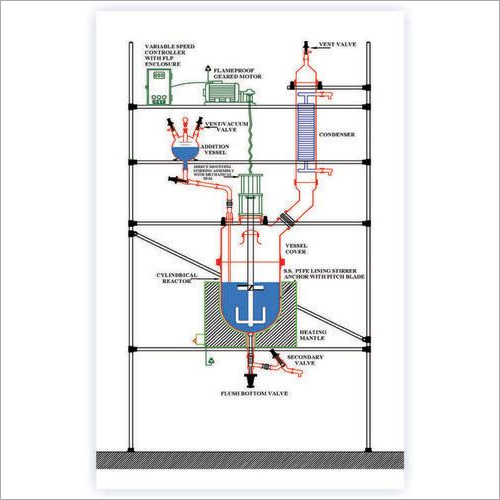 Glass Jacketed Mixing Reactor
Product Description
In chemical & pharmaceutical industries, a jacketed reactor is a vessel that is designed for controlling a temperature of its contents, by using a cooling or heating jacket around the vessel through which a cooling or heating fluid is circulated. Agitation can be also used in jacketed vessels to improve the homogeneity of the fluid properties (such as temperature or concentration).
How it works:
Through Interlayer of double lined glass reactor, Inject material or Liquid with thermally dissolved or cooling into Glass reaction vessel.

Connect External Heating or cooling Equipment with Double Lined glass reactor.

Stir material or liquid at constant speed heated by Agitator.

It can stir and react under the natural pressure or negative pressure in the sealed reactor.

The material can be emptied from the outlet valve at the bottom of the reactor after reacting. It is easy to operate.

The reactor is the ideal instrument for the experiment of modern chemistry, biochemical, pharmacy and the advanced synthetic.
Salient Features:
Borosilicate Glass 3.3, good chemical and physical properties.

Stirrer Drive:

Non-Flameproof or Flameproof Motor, 192 RPM with speed regulator.

Stirrer Material of Construction:

Glass or PTFE Lined.

Stirrer shape:

Glass Impeller Stirrer with PTFE Blades, Vortex Stirrer, Propeller Stirrer & Anchor Stirrer.

Stirring Assembly:

Stirring Assembly with bellow seal or with mechanical seal.

Supporting Structure :

Carbon Steel, Epoxy coated Carbon Steel, Stainless Steel 304 & Stainless Steel 316. All structures are available in Trolley Mounted form.

Closing Valve:

Drain Valve or Flush Bottom Outlet Valve.

PTFE Discharge Valve can discharge materials thoroughly and quickly.

Can work under pressure and vacuum conditions, under full vacuum.
Contact Us
Gala No. 6 In Unit No. 4, E.D. Estate, Dalvi Nagar, Survey No. 23, Sagpada Road, Village Chinchoti, Off Kaman Bhiwandi Highway, Behind Bhajanlal Dairy, Taluka Vasai (East), District Palghar,, Vasai, Maharashtra, 401208, India
Phone :+918045478208